7 Essential SEO Tips For Boosting Rankings During Black Friday and The Holidays for 2023
How Many Days Until Black Friday?
Black Friday – November 24, 2023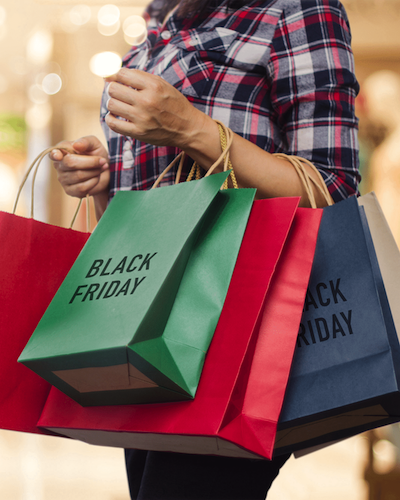 Black Friday, Cyber Monday, and the December holidays are a critical time for businesses, especially small businesses. Americans spend about $700 billion during the holiday season each year. In 2021, online sales during Black Friday and Cyber Monday amounted to over $19 Billion U.S. Dollars. The pandemic has changed the way consumers shop and what they're looking to buy. As a result, small businesses need to prepare a solid SEO strategy to ensure they're visible to online shoppers. Luckily, there are a few things you can do to give your rankings a boost. Here are seven essential SEO tips for boosting rankings during Black Friday and the holidays.
Start Holiday Planning Sooner than Later – Like Now!
One of the best things you can do to boost your rankings during the holidays is to start your SEO and marketing efforts early. That way, you'll have plenty of time to monitor sales and make the changes necessary to see ROI before the holiday rush begins. Aim to start at least three months in advance so you can implement any necessary changes and monitor your progress.
Make Your Current Content Holiday Friendly
Make sure you optimize your website's content for the holidays. Start by using relevant keywords, creating compelling titles and descriptions, and providing helpful information to answer people's questions.
Keep in mind that people are looking for deals and discounts this time of year, so be sure to highlight any special offers on your website.
Create a Holiday Shopping Guide or Black Friday Landing Page 
One of the best ways to boost your rankings during the holidays is to create a holiday shopping guide. A shopping guide is a great way to show off your products and services and highlight any special deals or promotions you're running.
Consider creating a seasonal landing page for all your Black Friday Deals. Include Coupons and Discount information.
Make sure to include relevant keywords throughout your guide so shoppers can easily find them when they're searching online. Keep the URL generic like "/black-friday" so the page can be updated each year.
Creating holiday-themed content is a great way to get people interested in your brand and drive more traffic to your site during the holidays. Content could be anything from festive blog posts and graphics to holiday-themed landing pages and email newsletters.
Offer Free Shipping 
Free shipping is one of the most significant factors influencing whether someone makes a purchase online. Offering free shipping on all orders during the holidays will boost the rankings and help you convert more shoppers into customers.
Run a Holiday Contest 
Running a contest is a great way to engage people with your brand and generate excitement during the holidays. Have your customers uses brand hashtags and encourage them to share their deals with friends on social media.
Partnering with influencers who have an active following on social media is a great way to reach a larger audience during the holidays. These influencers can promote your products or services through sponsored posts, giveaways, or even just by talking about your brand on their channels. Make sure to choose influencers relevant to your industry and target audience so that their followers are also likely to be interested in what you offer.  
Make sure to promote your contest across all of your channels and include relevant keywords so that people can easily find it when they're searching online.
Make Sure Your Site Is Mobile-Friendly
In today's world, your website must be mobile-friendly if you want to rank well in search results—especially during the holidays when people shop more on their phones than ever before.
Make sure your website is responsive and easy to navigate on all devices, or you risk losing potential customers who go elsewhere for their holiday shopping needs.
Optimize Your Website for Voice Search
As voice-activated devices like Amazon Echo and Google Home become more popular, optimizing your website for voice search is essential. Use natural language and long-tail keywords that people are likely to use when speaking on their devices.
For example, instead of using the keyword "Christmas tree," you would use a longer phrase like "Where can I buy a Christmas tree near me?"
By optimizing your website for voice search, you'll be able to reach a wider audience and boost your rankings in search results.
Hire Us as Your Holiday Digital Marketing Expert 
SEO and Digital Advertising are vital for small businesses during Black Friday and the holiday season. By following these essential tips, you'll be well on your way to boosting your rankings and driving more holiday sales than ever before.
However, if you don't have the time or know-how to boost your rankings on your own, consider hiring an SEO expert who can help you out. J Browning Studio is an experienced marketing agency that can help you properly optimize your website, products, and content to achieve the best possible results during the holiday season—and beyond!
Give us a call at 202-838-6577 for a free consultation!