We offer pay per click services that can increase traffic and conversions.
You're looking for a reliable PPC agency and a cost-effective way to increase web traffic and attract more customers to your business.
Still, you don't know where to start. If that sounds like you, then we can help!
PPC advertising allows companies to place paid search ads on search engines and other websites. Advertisers only pay when someone clicks on their ad, making it practical to reach new customers.
Our team of experts can help you achieve your advertising goals with our experienced PPC campaign services!
Our MANAGERs Make PPC Advertising Easy!
A PPC management agency like ours can do a lot for your business! We can help you increase web traffic, attract more customers, and boost your sales. With pay per click campaigns, you can target your ads to reach the right audience and get the most clicks possible.
We'll help you choose the right keywords and select websites and search engines for your ads by conducting the proper market research. We'll also make sure the wrong negative keywords are not triggering your ads. From there, we'll create and manage Google ads campaign, so you can focus on what matters most – running your business!
We'll create compelling ads for each product, service, or location on your website which will increase conversions and target users you want to reach.
And we manage and track your progress, so you can see how well your campaign is performing. We can make changes and test different keywords to create a successful PPC marketing campaign that's profitable for your business!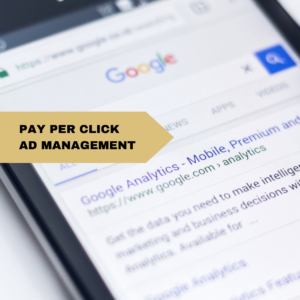 We Have a Plan to Match Your Budget
How much do Ad Management services cost? Our services can vary in price, depending on the size and scope of the ad campaign. However, our team of experts will work with you to create a strategy that fits your budget and goals.
Our Expert Search Marketing services are easy to setup!
Our team offers various cost-effective digital marketing services to help businesses like yours achieve their advertising goals.
Global PPC management campaign setup
Google Ads setup and management
Social Media Marketing Ad Campaigns
on Facebook, Twitter, Pinterest, LinkedIn
WE Make sure your landing pages match your COST per click ads
Not all search ads are successful. If you're not using a landing page that matches your ad, then you could be losing conversions and money.
We ensure that the audience engages with the same message in their ads as they do on your landing pages. The same call to action can help you achieve your advertising goals by creating compelling ads that get you more clicks. We'll create landing page quality that will increase conversions and your return on investment.
By creating a landing page web design with proper search engine optimization that matches customer expectations, we'll help you get the most out of your PPC campaign. We're the right agency to help you create ads that will attract customers, advertise to the right audience, and increase sales while saving time and money.
Unsure if a PPC agency is the right choice for your business? Find out how We can help you achieve your marketing goals.
An excellent PPC company like ours can help your business advertise to the right customers. We'll determine the lowest cost per click by testing several ads at once. We will  monitor the bid management and analytics to get the best results and save money.
PPC advertising campaigns allow you to track results to see how many clicks each ad gets. Our research staff will find relevant keywords that work best for your business. We'll make changes and test different keywords and ads to improve your campaign with this information.
We're a Reliable and cost-effective PPC agency You Can Trust.
Experience matters when it comes to advertising. PPC marketing is a fast-paced industry that changes as new ad platforms and tools launch. We stay up-to-date on the latest trends in digital marketing so we can create successful campaigns for our clients.
We know how important it is to give our clients the highest quality services, which is why we only use the best methods to craft your personalized search marketing campaign. We'll create clear and concise cost per click ads, showing customers what makes your business unique.
Our hands-on team manages each of our client's PPC campaigns, so there is less effort and less worry on your part. First, we'll learn more about your unique goals and current digital marketing strategy. Then, our experts will go over the different options available.
Get in touch with us now to learn more about what we can do for your business.