SEO Services | DC | Maryland | Northern VA
A SEO Strategy from An Expert You Can Trust!
Rank Higher in Organic Search Results
Spend less time worrying about your website performance and use the time saved focusing on what you're good at – running your business! Relax and know that your site is in good hands. We employ SEO services that help small companies improve their web content traffic and rank higher in major search engines. In addition, we coordinate with clients and team members to analyze website progress and customer conversions in Google search console and analytics.
Many Business Leaders ask, "What is SEO? DOES it Really work?"
You may have heard the term "SEO" thrown around a lot, but do you know what it is and how it works?
Search Engine Optimization is all about optimizing your website to rank higher in search engine results pages (SERPs). As a result, more people will see your site when searching for keywords related to your business. In addition, a higher ranking will attract more visitors to your site – and hopefully convert them into customers. At J Browning Studio, we use the latest SEO services and strategies to optimize your website for Google's latest algorithm.
By doing this, we make sure each page makes your brand stronger. And because it takes time to optimized, you can be assured that our team will work diligently to get the best results for your business. So let us help you improve your SEO and watch your business grow!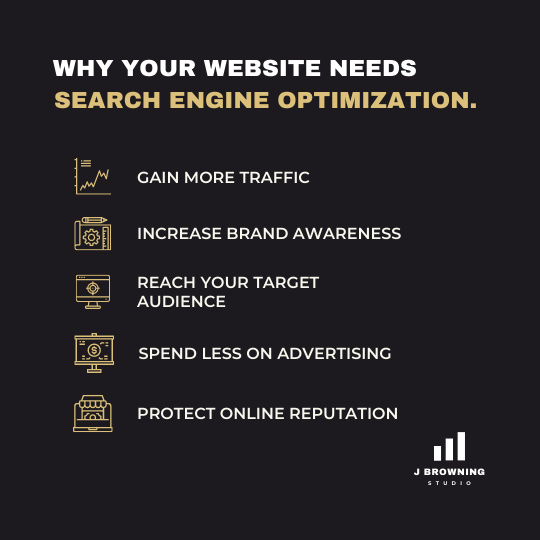 ASK US FOR AN SEO AUDIT TO CHECK YOUR Site's Health AND discover technical issues
Write great content for the title tags and meta descriptions
Optimize Schema Data and other meta data that Google bots use to crawl your web pages
Improving the site's load time and speed
Add relevant keywords to web pages
Write high-quality content that engages your customer
Optimize Image Quality and Selection
Optimizing sitemap and information architecture
Optimize Header and Footer Site Navigation
Control Your destiny with ON-PAGE Search Engine Optimization
It starts with keyword research which is still the primary factor that makes search engines work. It is not about keyword stuffing anymore. On-page optimization is the practice of optimizing a website's content and structure for the purpose of earning better rankings in search engine results pages (SERPs).
You've probably heard that SEO is dead. Perhaps it's because people are still doing it like it's still 2012 instead of 2022!
Millions of businesses feel the same way after using an SEO company stuck in the past. That's where we come in. We can help you implement the latest techniques to improve your website's ranking and visibility. We use a combination of tried-and-true on-page optimization strategies and the latest AI advancements to help you leap ahead of your competition. As a result, we can help you dominate your industry with our cutting-edge on-page optimization techniques.
Imagine what it would be like to have a website always ahead of your competition in the search engine results pages. With our help, you can make that dream a reality. We'll work tirelessly to ensure we fully optimize your website for the search engines. Our team is passionate about helping businesses succeed online, and we want to help you do just that.
Our SEO experts use techniques and keyword research tools that are sophisticated and efficient for generating a higher ranking in the search results for the keyword clusters that match your customers' search intent.
Coordinate what others are doing with an OFF-PAGE Search Engine Optimization Strategy
Off-page SEO refers to actions taken outside of your website that can improve your search engine rankings. The purpose of off-page optimization is to build the authority and trust of your website, which will eventually signal to Google that your site is worthy of ranking for specific keywords. The goal of off-page optimization is to increase the visibility of a website in the search engine results pages (SERPs).
There are many different ways to build authority and trust. Still, some of the most common methods include creating high-quality content and directory submissions. Building backlinks from other websites and getting customers involved with social media engagement also helps signal to search engines that your site has a vast audience. In addition, these links serve as "votes" that can help improve a site's position in the SERPs.
It's important to note that off-page SEO is not a one-time effort – it's an ongoing process that should be incorporated into your overall SEO strategy – one we can implement for you!
Comprehensive Search engine Optimization Monitoring
SIMPLE REPORTING & EASY TO UNDERSTAND INSIGHTS
SEO is just one arm of a sophisticated effort to rank your company above your competition. We make SEO easy for you to understand what we're doing and how it is improving your search results.
Using our advanced keyword research tool, we'll' help your company identify relevant keyword phrases needed for SEO success in your industry. We will help you place these terms in your content. In addition, we will analyze other websites' keywords that rank well and increase domain authority.
"If you don't have a long-tail SEO strategy, you're missing out."
IMPROVE ORGANIC TRAFFIC IN SEARCH RANKINGS WITH OUR PROVEN SEO KNOWLEDGE
We'll provide the search engine optimization strategies that help small company professionals rank higher in search engine results. Your customers will find your products or services listed before your competitors' listings. We'll help you separate the high-ranking web pages from webpages that don't' rank well for their respective keywords.
We're an SEO Company you can trust
We help website owners discover the best search engine optimization strategies. We do the research necessary to determine the ranking factors the search algorithms are using to rank your web page in the search engine results.
Our web designer can help you create stunning website landing pages that convert users into customers when needed. We can also assist you with content marketing and social media marketing. We also help you with Local SEO and Reputation management.